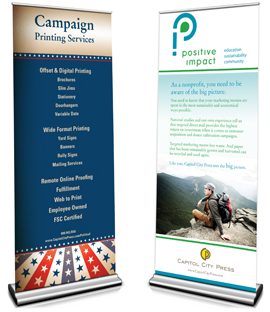 Your display options for Wide Format
So you have just had a big poster or banner printed and want to stick it on the wall or a fence so everyone can see it. Maybe you are going to a trade show or event and need to be able to display information temporarily on walls or freestanding on the floor. Do you have a shop and want to have signage in your window that you can change as often as you want, simply and quickly. Do you want to put colourful advertising on the footpath to draw people into your place of business. Yes you can do all of that and more with the range of display stands we can supply here at Copy Express.
So let's talk about the options you have for posters and banner display.
For posters of 'A' size the cheapest solution that lasts for more than a few weeks is for us to laminate it and then you stick it on the wall with 3M Command Strips. If you want to avoid using Command Strips, we do have a range of low cost adhesive hooks and and clips that have a longer working life.
If you want a more permanent poster solution we can get is perspex display pockets. Sort of like the plastic menu stands you find in restaurants, these stands are open top plastic holders up to A1 in size that you can drop your printed poster into. Mount on the wall with glue or screws. From there you have clip frames, found in sizes from A3-A0. These are essentially aluminium picture frames where the edges of the frame spring open allowing you to quickly change what is in it without have having to take the frame down. Going on from this we can still get lightboxes, single and double sided, that shines light through whatever you want to have on display. Lightboxes are great when combined with artwork printed on light box film, meaning your signs can be seen anytime day or night.
Banners are much more customisable in their size so there are several different solutions that flexible enough to work. With banners you will end up making the banner design match the system you are going to use to display it with as they all come in fixed size formats.
For low cost banners that you want to last more than a couple of weeks, then lamination and 3M Command Strips are your starting point. From there you can have holes punched in them with the option of eyelets and the same clip or hooks to hang it. For more permanent solution we have aluminum banner rails, from 0.6m to 1.5m wide, that spring clip on the top and bottom giving the weight to keep it straight while hanging from the wall or ceiling.
For free standing display the cheapest solution is X-Banners which uses a cross frame flexing nylon poles (like the ones in tents) to hold the poster rigid. From there it's the 1 and 2 sided pull up banners. Internally they work like a roller blind using a pole to pull the banner up from the base, and pack away to size you can treat as carry on luggage for air travel. From there we go in the more advanced display systems which basically become portable walls, but that's outside the scope of this article.
If you want to use your banners outdoors, then you will have to have it printed for outdoor use and that normally comes with an option of eyelets for you to be able to use ropes/ties/screws to attach it to a surface. If you want free standing banners both the X and pull up banners come in outdoor versions. Another choice is to look at printed flags, where you have a range of permanent and movable mounting options, but that is subject for another article.
So that's the basic rundown of different mounting options for wide format printing. Picking the right one for the job with so many option can be confusing so why not talk to us at Copy Express and we can help you find the ideal solution to your needs.