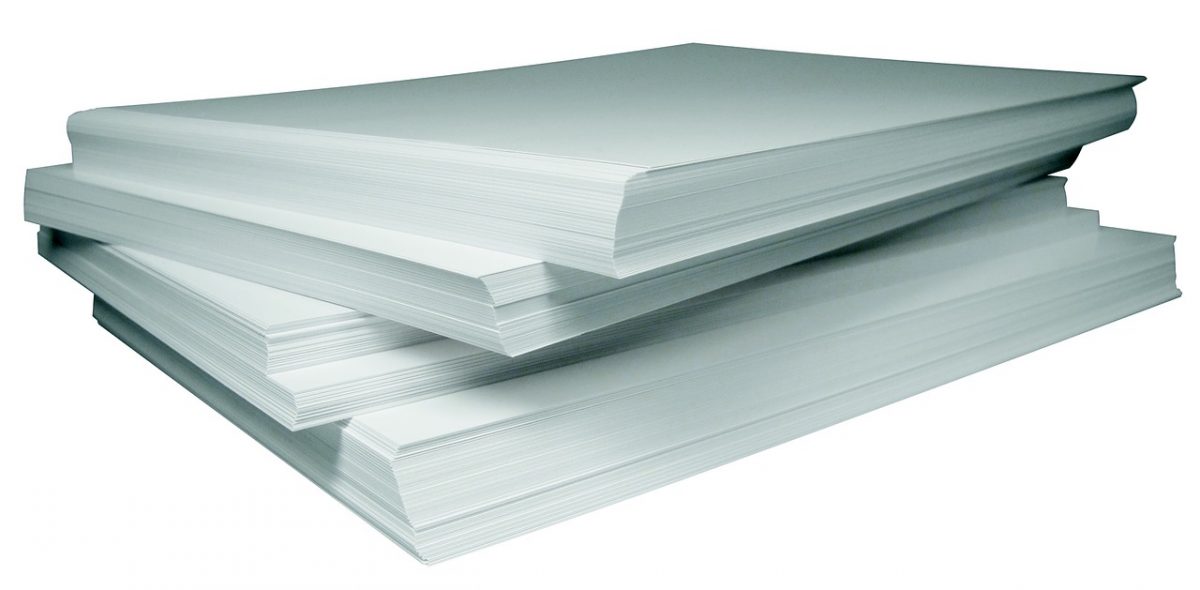 The weighty matter of GSM
So you've sent an email requesting a quote for a brochure or a flyer and we give you the price back describing the paper as a number followed by gsm.  Now you might be wondering what gsm means and why a job at one gsm number cost more than another gsm number.  Simply put, gsm stands for Grams per Square Metre which is used describe how heavy (and therefore stiff) a piece of paper is. Because all paper sizes are derived from A0, which has an area of 1 square metre, it makes sense to judge the thickness to that size. You can find more about A sizes here.
While you are welcome to come down to our store and have a feel of the paper, here are the common examples of the normal paper GSMs.
Less than 70gsm
These light translucent paper, often called onion skin paper, are normally used for very specialised jobs such as wedding invites. The only real issue we have printing on them is that they are so lightweight that printing on both sides of it is not practical.
70gsm
This light weight paper is often used where using several sheets of 80gms would be too heavy or too hard to fold. The most common example is the aerogram letter writing papers.
80gsm
We all know 80gsm, that what photocopy paper is rated.
100gsm
Often called bond or letterhead paper, this heavier paper is used where you want to have more premium feel without adding that much to the paper costs. The paper found in letter writing sets is typical of the weight.
110-140gsm
This is where the coated/offset papers start. Here at Copy Express we do the bulk of our flyers and brochures on 130gsm as it as flexible as 80gsm but has the finish to give excellent image quality. If you look at the glossy magazine pages you will get the feel of this type of paper.
150-190gsm
With the increase of thickness you get a stiffer paper that gives more impact the material that is printed on it. The pages of high quality books, especially art books, use this weight a lot. Or give a more premium feel to a flyer or brochure.
200-250gsm
These weights is classed as light card, which has greater stiffness but can still be easily creased and folded like paper. The covers of soft cover books and high colour printed packaging use this category of card
260-350gsm
Medium weight card is where the rigidity of the paper is very important factor. Most business cards are printed on 300-350gsm, including our own.
Greater than 350gsm
These weights are the domain of specialist big press printers as the card is too stiff to bend around the systems of small run/high speed print centres such as ourselves.

We have already talked about the difference between coated and uncoated in this blog .  The paper type has effect on the gsm rating since it is a measurement of weight.  The processes used to make coated paper means that it's slightly thinner and more flexible than the matching gsm in uncoated. In practical terms, the better print quality you get from coated paper is worth it. Who manufactures the paper and the way it is made also makes differences in the gsm rating. Again in practical terms this doesn't directly effect most printing jobs, but we are more than happy to print samples of your work to approve the paper's feel before committing to the production run.
So what to use and where to use it? It all depends on what look and impression you want to give people when they pick up your material. The three most commonly used weights are 80, 130 and 250gsm.
80gsm photocopy is great where you want a big volume for a low cost. A typical example would be the flyers stuck underneath your wiper blade in car parks. You know most of them will be thrown away so you need to keep the cost low. Most examples of this are printed black only, but can be perked up by using a tinted paper that only adds a little more cost to the printing.
130gsm are for your standard flyers. While you do find them in your mail box, the lightness of paper is better suited for counter stands or handed out to people. Here you can use the finish and weight of the paper to give it a real impact which makes investing in colour worthwhile.
250gsm is great for mail boxes as it take being manhandled a lot better and it will even survive being rained on without too much damage.
So that's the run down on what gsm is and why it matters. Feel free to call us on 04-568-8773 if you would like to talk about your particular needs.