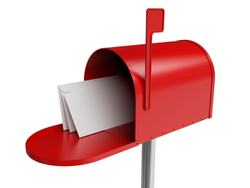 Mailbox Marketing Options
Every Tuesday and Saturday we get a stack of flyers and catalogues dropped in to our mailboxes. In this age of SMS texts and email, it seems to be the only thing that mailbox is used for by a lot of people. All we get is catalogues and flyers from the nationwide businesses and organisations. What a lot of people don't realise is that this can be powerful marketing tool for small businesses too. With a targeted mailbox flyer drop you can get your brand or offer in front of your prospective clients quickly and efficiently.  Copy Express can step you through each step of the process and help you design and deliver an effective flyer.
The first step you must take is deciding on who you want to target. With mailbox marketing you can focus your promotion by the following choices:
Domestic Household
You pick the general suburbs you wish to market to. Each suburb has it's own unique nature based on the average income, local schools, public services, prevalence of industry, and local retail and commercial business within the area. The most basic way of doing it is work out which suburbs you already get work get from them and then pick ones with a similar make-up for the areas you want to expand in to. If you want to go into more detail, or are unsure which suburbs you should pick, we do have a the option of targeting by demographics supplied by the distribution company for an additional charge. They also have a system to allow you to target individual households but this has much higher set-up costs.
Business Postbox
Most businesses, public and government organisations have a Post Box or Post Bag. If you are in a market that is 'business to business' then you will want to focus your spending on this area. Post Box drops follow the same sort of method, you pick the commercial area you want to target and design the promotion to be relevant to the broad range of business that fall in that post box zone.
Direct Addressed Mail
This involves uniquely addressed mail to a specific list of recipients.  It is a bit more expensive but can be much more effective with the right list.  We are going to talk more about this option next month.
Each of these options has a range of variables and cost options.  There are minimum quantities/spend which vary between the different providers.  We know who the main players are and what their costs and requirements are so talk to us before you want to start.
I would also recommend that you make use of every part of the material being put in to the mailbox. Far too many flyers leave the back of the flyer blank where you could put more information about the business or quotes from happy clients. While printing the second side adds to the overall cost of a run of flyers, the fact that you will be doing thousands of flyers in a mailbox drop the price increase is minor.
The final factor in doing mailbox marketing is the lead time. We recommend that you allow at least two weeks for production and distribution process to happen (three is better). In our experience clients never leave enough time to get all the details sorted – everyone wants it delivered yesterday, which just isn't possible.  This is where planning your marketing in advance pays off when you want to get your promotion in customers hands at a particular time. This especially true when you are targeting a public holiday or big event. I recommend you read this article  6 Easy Steps To Planning Your Marketing to learn more.
Now here's an overview of the process of doing a mailbox drop
Decide on the market you want to target. Design the promotional material to that market. Pick the areas that best reflect the customers you want, picking at least 2 to 6 suburbs or a larger postbox centre as the minimum charge for the distribution companies equals about 6000 addresses. We take the areas and give that to the distributions agents who will give a count of the unique addresses. From there we work with you to fine tune the areas if you want to adjust the size of the promotion. Once you have finalized the targeted area we will get the flyer printed and bundled to meet the distributors requirements and ship them out to them. The mailbox drop happens.
So what is the cost of doing all this
So each job is different but there are some minimum charges to do mailbox jobs so plan to be putting out at least 6000 of your fliers, which accounts for 2 to 6 suburbs depending on their size. For a run of this size you are only paying less than $0.07 per flyer to have it put in to a mailbox or post box (at time of writing). That might seem expensive, but think about how long it would take personally put flyers in 6000 mail boxes and how much your time is worth.
Now if you want find out more on what mailbox drops can you and your business why not give us a call at Copy Express.