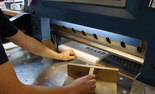 Fun with Finishing
What is Finishing and why would it be of interest to you I hear you asking. Well finishing is the term printers use to describe any work done to an item after it has been printed. We do all kinds of finishing here at Copy Express and I thought we should talk about each type of thing and what it can be used for. So here is a basic list of the neat stuff we can do for you.
Trimming
This is the standard thing we do with our printed material because we print on SRA3 sized sheets of paper and trim down to the finished size that we supply to you. Did you know that we can also just cut for you? If you got odd size paper or need larger sheets cut down to a smaller size then we are happy to do that for you for a small fee.
Creasing
We make use of a programmable cutting system called an Aerocutter which does the bulk of our trimming. One of it's useful features is that it also has an inbuilt creaser. Now when you crease a printed item, this gives it a natural folding point and often prevents 'cracking' of the colour in areas of high coverage. We most commonly use this for making such things as greeting cards and folded business cards, but our machine can add up to 4 creases. I recently used this feature to come up with a cardboard CD case for a customer that allowed for design that has two readable spines and fits neatly into the standard CD rack.
Folding
There are times when you need to take a sheet of paper and make it smaller, so you fold it. We have equipment that allow us to do all kinds of folding. Fold a stack of sheets in half and staple in the center and you have a book, fold sheets in to thirds and you have the standard DL letter. There are other ways of folding items to fit all sorts of situations.
Perforation
Need a flyer with a tear off special voucher card or books of 2 part raffle tickets, then you need it to be perforated. Our Aerocutter system can put up to two parallel perforations on a single item depending on formatting. For more complex perforations we can either do it by hand or outsource it to a specialist but these have additional cost.
Hole Punching
Our printers can put 2 or 4 hole metric ring binder holes on pages it prints. What if you want imperial sizing or three hole? How about a hole that is off centre or on an item too small to print individually like a price tag? That's not a problem!  Our Hole Punch Drill Press allows us to do all that. We can use the press to drill holes in most papers and cards, so if there's a manual you want to stick into a binder here is a way to do it.
Stapling
Did you know that when we print your files we can turn it into a booklet by folding pages and centre stapling or stacking it up and edge stapling. We also have heavy duty staplers to bind larger stacks of paper.
Padding
Just like the refill pads of line paper, we can pad stacks of paper together with a glue edge and backing card. This way is great for such things as competition and information sheets, compliment slips, branded notepads, and NCR books.
Is this all the finishing work we can do, no it is not. We have partnerships with specialist in the print industry that allows us to have items cut to a custom non rectangular shapes, folded and perforated in special ways, even have interesting effects applied to the printed pages. If you need something special or different done, why not contact us at Copy Express and let us see what we can do for you.