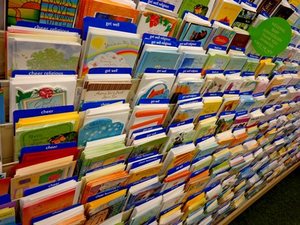 Designing Great Greeting Cards
There are lot of things you can do to make a greeting card with a lot of impact, far too many to fit in one blog post, so here's a selection of them.

Make it speak about you
Don't use clip art or generic images on your card. If you going to do that then you might as well just buy cards from a stationery store. Instead pick images that talk about you and what you want to say to people. If it's a family one, then photos of the family or the kids artwork will say a lot more. If you are business, then images of who you are, what you do or sell will have much more meaning, and you can still use kids drawing too if you want.
Make it personal
One of the abilities we have at Copy Express is to do Variable Data Printing. VDP allows us to add unique information to each card as part of the printing process. Give us a spreadsheet of people's names, a greeting to them, some fact about their business, anything you like, and we can personalise each card. A lot easier than writing it out by hand and the only limit of what we can put into a card is your imagination.
Have fun with the size
While greeting cards are traditionally A6 in size (1/4 A4), there no reason why you have to stick to that size. We will cut and crease to any size you want. Why have a single fold too, we can put up to four creases on any item so you could have a A4 sheet small enough to fit in a DL envelope for postage.
You're paying for the back of the card so use it.
When printing greeting cards the front and back of the card are on the same side of the sheet of the card. That means you are paying for colour printing on the back of the card. Make use of it by putting more artwork or a company logo and contact details.
You don't just have to print on white
We are happy to print greeting cards on different types of card other than the standard white coated card we use for most of our printing. While we can order in special card for you, for smaller runs it's just as cheap for you to pick it from the local stationery supplier. As long as we can see the packaging to make sure it is safe to go through our print systems, then we are happy to print on it. One thing to be aware of is that printing on card that is not white in colour will make the colours printed on it change. We can correct for it but only to a limited degree. And don't think about black card – it's not pretty!
Don't forget the envelope
We can use the same VDP data to print directly on envelopes and even include full colour images. Got a lot to post? We can stick the stamps on and post them for you, or we can use bulk mail rates for lower mailing cost.
Bonus tip for Businesses
Research has found that if you are mailing out cards to your clients, the act of sticking a postage stamp on envelope gives it a more personal touch. This personal touch adds to the positive image that you want to promote yourself with.
Don't feel like designing the greeting card, or worried you won't do a good job, then we can do that for you. Give it to us at Copy Express call or drop on by and we can discuss options and come up a package price that will suit your need.