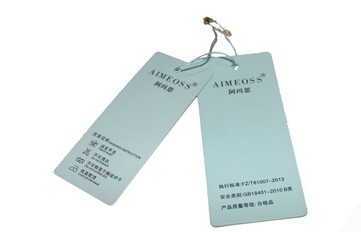 Designing for Stickers, Tags and Wraps
One of the services we offer here at Copy Express is short run product labeling. This comes in the form of: peel and stick stickers, card tags that you can use in commercial shelving or hole punched for threading, and wraps which are paper strips which are designed to go around object to put information in a non-intrusive way. How do you design for each of them and what are they best used for?
Stickers
Stickers are best applied to situation where you need to 'permanently' attach information to the item in question. The type of sticker you use depends where you are going to use it and how long it needs to last. Designing for them is no different than designing for a flyer. If you want colour and artwork to the edges then you have to include bleed in the design. The only complexity is if you are wanting to use pre-cut (die-cut) labels. You have make allowances on how the labels are laid out on the printing sheet. Sometimes you only need to do one label other times you need to put every label on the printing sheet to line up correctly. There's no need to stress as we here at Copy Express will give you all the help you need to get it looking right.
Tags
Tags are used where you don't want to use adhesive on items, like clothing, so instead you use a cardboard tag that is combined with a loop of thread or metro taggers. Again they are just as easy to design as normal flyers and the same rules apply, the only trick is to make allowances for the hole to be punch for attachment. If you want them to be small but to fit a lot of information we can create a creased version so you can fold it up when you attach it to your product. If you need a version of a tag where there is a tear off section, for price reductions or keeping records of sales, then we can supply you with a perforated version.
Wraps
Wraps are used when you need to put packaging or branding around a item but you don't want the residue of the stickers and you can't attach a tag. Take the strip of paper and wrap it around like a ribbon and seal the end. It is as simple as that. These strips again can be designed like any other flyer. When you are using them we supply them with double sided tape already attached to one end or supply you with clear sealing discs which look so much nicer than just normal sticky tape.
These three products offer you lots of great ways of putting your details on the products you sell. This isn't all that we can do, as are always experimenting in new ways of doing things. Why not give us a call with your tough product labeling problem and let us come up with a way that will suit you.