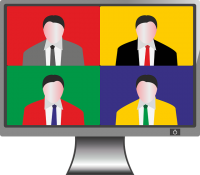 Applications to run your business when you're working out of the office
Over the years I've posted lists of useful software tools to run your office that's either free or low cost to use. With the new normal of the COVID-19 world, where everyone is currently dealing with having to work at home, I thought it was a good time to update things. So, I present to you a list of software that you can download and use on your computers at home. Many of the applications I will be listing are fine for running on lower power equipment like the older or cheaper laptops which don't have the memory or speed to run the big name applications. The goal is to give you everything you need to run an office away from your office. The options we've listed here will be available for Windows based machines, and many of them have Mac and Linux versions too. ChromeBook users are limited to online options alone. We will already assume you have a browser, email, and security software programs of choice so we will skip those. We will also skip options that require the more advanced setups that are best left to professional IT personnel to install.
Office Suites
When you have to write a letter, calculate some numbers, create a presentation, or access a database. The day to day tools needed to run a business:
Communications System
With social distancing, working from home, or reaching out to customers, you need tools to talk to them when a phone call won't work.
Graphics / Design Tools
From pretty pictures, instructional diagrams, to making flyers; tools for going beyond what Office Suites can do.
Remote Access Tools
Sometimes you need to access your office computer, or a client's computer and you can't do it in person. These are the tools to let you do it. Other times you want a proper connection to all the systems on your office network.
Other tools
Other useful things to keep everything organised and secure while you're away from your office.
Is this the be all and end all of tools you need to work from home? No, far from it, but it's the key ones that will take care of most people's needs. Do these applications work for remote work? Yes, they do. We ourselves have been doing remote / working from home for years and found it no different to working in our office. As time goes on we will update or expand this list as we find more tools to expand the range of options you can choose from.