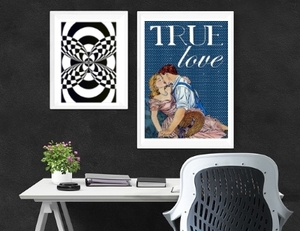 6 common questions about wide format printing
When you go to a on demand print centre like Copy Express, you will often see Wide Format printing being promoted. Wide Format refers to any printing that is larger than A3 and usually used to refer to poster and plan printers. These machines are different from your standard printers because they feed off rolls of paper and are used to print very small volume runs like posters or photos, where business cards and flyers are done by sheet feed systems like our 750cx. Since Copy Express does wide format printing, it was about time to answer a few common questions about the technology and what it can and can't do.
What is a wide format printer?
As stated in the intro, wide format printing is most clearly differentiated from other forms of printing for it is designed for low volume printing on rolls of paper. (Though many smaller machines, such as our one, also can print on loose sheets one at a time.) They are essentially like the inkjet printers you have at home, just built to print on a much larger scale. Depending on the type of 'ink' they use, the can print a wide variety of material and can be used in all types of conditions. Examples of this include the plastic corflute real estate signs, pvc banners, even the signage put onto windows. The key thing to understand is that this type of printing is designed for one offs or very low volume printing but every page they print can be unique.
Why do you charge for coverage when other printing is charged on quantity?
Actually we should also charge on coverage for other printing as well. A page that uses only black text it a lot cheaper to print than a full page photograph. However because our main printer does so much work we can average out the cost per square meter and offer a much flatter rate. Wide format being used for very small run we don't have that economies of scale so have to charge on the actual amount of ink and paper used. We could price on the exact amount of ink used for each print, but as that takes a lot of calculations to do. So we priced using a general rule, plans which are most lines are a lot cheaper than general signage which is mostly text or simple graphics, while photographic style images cost the most to do.
What type of papers can be printed on?
This depends on the type of printer being used. With on demand print centers like us, we use aqueous inks which means we use water based. This means we can't print as great a range of material as does the latex or dye based, but it's cheaper and has faster production time. Copy Express most often prints on plain 80gsm copier style paper, a heavy 150gsm bright white matte and a 160gsm semi-gloss photo paper. We also can print on a 150gsm plastic paper that is water resistant which we use for some plans and a lot of banner and display stands. We also have lightbox film and large size adhesive paper for making really big stickers. We are exploring what other material we can print on so keep an eye out on the website for announcements.
How big can you print?
That size is limited to the width of the roll of the paper. Copy Express uses a 36" wide system so the maximum size of the short edge of the print ~ 900mm. Because the paper comes on a roll, the long edge can be as long as you like. We have printed pages over 4 meters long for customers party banners. Now not all paper types are that large, as different types of paper come in different widths, so we are limited by that. We are also limited by the equipment that we have to print with a white margin around all edges so you want full bleed artwork we will have to print on the next size up of paper if it's available.
What are the different types of prints?
To make things simple, printing companies price their work on size and material. As most of the cost is the ink being used to print, work is priced on how much covers the page. Plan printing is purely lines and very small blocks of solid colours, covering generally less than 1% of the page area. Text & Graphics cover the coverage up to 50%, while Poster/Photo prints are above 50% coverage. But how do we decide if a print is Text & Graphics or Poster/Photo. Take the example of a 'For Sale' sign. If the text is red on a white background then it will be treated as a Text & Graphics job as most of the page is unprinted, if the sign was white text on a red background, then it becomes a Poster/Photo job because most of the page is printed on. If you are unsure you can always email the file to us and we can give you a quote on the job.
How long does it take to print wide format?
That depends on the nature of the job. Generally speaking if we are only printing, then it's while you wait or same business day. If there is additional finishing, like, lamination, adding grommets, or mounting in a display stand, this can add 1-3 business days depending on what is being done.
What file format do I need to give you?
It's the same as printing on our laser printers. PDF is the most reliable but we can work with most of them and we will often send back a proof for you to approve before printing if there's been file fixup/conversion. If you are looking at doing a A0 sized print but you don't think your computer can handle setting up a design 1188x841mm in size, just do the design in a A3 page as the best detail you can do it and let us scale it up to fit. If there is going to be a noticeable drop in print quality by the scaling up, we will let you know before printing it and advise you what to do.
What about banners and displays sizes?
As we have said before, because the paper comes on a roll, it can be quite flexible in the size you want it to be, as long as your short edge isn't greater than the width of the paper we are printing on. With display stands you are limited to their frame size and we will give you the measurements or a pdf template to work from. If you are making a banner then just us a call and we can work with you to give you the biggest banner for the best price.
That's a quick rundown on what wide format printing is about and how to set up your next print job for it. As always you can email or call us to find out more.